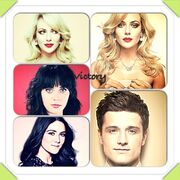 The Victory Series is currently a WIP. The first story can be found here: Victory. It has been written by rosaleeweasly.
About the Series
Chronologically, it starts out with Rose Weasley and the Eye of the Tiger, which is set in 2017 and follows the story of Rose's first year at Hogwarts. After that comes Victory, which follows Victoire's story. Both make sense with each other.
Future Plans for the Series
First chapter published in 2013:
Rose Weasley and the Eye of the Tiger (set from September 2017 - June 2018) Victory (set from July 2018 - May 2019)
First Chapter Published in 2014 Rose Weasley and the Nymph's Pearl (set from September 2018 - June 2019) Victorious (set from November 2019 - October 2020)
Ad blocker interference detected!
Wikia is a free-to-use site that makes money from advertising. We have a modified experience for viewers using ad blockers

Wikia is not accessible if you've made further modifications. Remove the custom ad blocker rule(s) and the page will load as expected.