The author of this article will soon improve this article soon.
The author does not need any new ideas at the moment, but expect to see improvement here in the near future.
Roderick Prince
was born to
Lorcan Prince
and his wife
Mairead
in Donegal. His namesake, Ruaidrí Ua Conchobair, was the last Muggle High King of the Éire. Growing up, he was also told the story of Saint Roderic, a Muggle priest who refused to renounce his Christian beliefs and was martyred for his faith.
Lorcan's only biological child, Roderick first showed signs of magic at an early age. At the age of five years, he had already mastered the Accio charm. His first use of the charm involved recovering a copy of a favorite Muggle novel, George Bernard Shaw's "Pygmalion," from a shelf too high to reach.
He doted on his adopted younger sister, Aoibheann Prince.
Biography
Hogwarts days
When Prince was accepted into Hogwarts, the Sorting Hat initially nudged him toward Ravenclaw. It finally put him in Gryffindor, stating that he was more a lion inside than an eagle.
To Roderick, Amortentia had the odour of spearmint and bell heather. He was on the Gryffindor Quidditch team as their Keeper for his second and third years. In his third year, he became a registered Animagus, a red squirrel.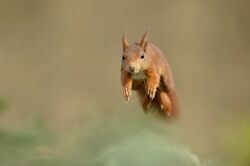 Few people other than his fellow Aurors and family knew Prince constantly wore a beautifully crafted
oak rosary
on a cord around his neck under his shirt; a gift from Lorcan to Roderick on his son's first birthday away from home, a gift that would be passed down to his second-born grandson after his death as mentioned in the Auror's
diary
and will.