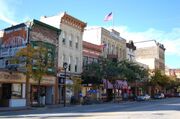 Old Solomon's Row is the wizarding neighborhood of Milwaukee, Wisconsin.  It is accessible through the back courtyard of the Tavern der Zauberer, an obscure establishment in the city's Old World Third Street section.
Old Solomon's Row Shops
Gringotts Bank
Schlauermeister's Wands  - "The Midwest's Finest Wands Since 1794"
Quill and Scroll -books and stationery
Armstrong and Zimmer, Magical Instruments
Bane and Sons, Familiar Creatures
Wizard Wear, Gentleman's Furnishings
Appears in
Ad blocker interference detected!
Wikia is a free-to-use site that makes money from advertising. We have a modified experience for viewers using ad blockers

Wikia is not accessible if you've made further modifications. Remove the custom ad blocker rule(s) and the page will load as expected.