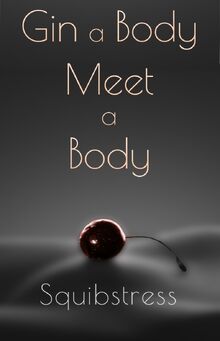 "Gin a Body Meet a Body" is an alternate-universe short story by Squibstress. It was written for the 2012 Samhain Smut Fest on LiveJournal.
The title comes from a refrain of the 1782 poem by Scottish Poet Robert Burns:
Gin a body meet a body
Comin thro' the rye,
Gin a body kiss a body,
Need a body cry?
"Gin a Body Meet a Body" won second place for "Best Invented Magic" and third place for "Best Het Smut" in the Fall/Winter 2012 HP Fanfic Fanpoll Awards, and second place for "Best Legacy Story" in the "Minerva McGonagall" category in the Spring/Summer 2013 HP Fanfic Fan Poll Awards.
Summary
During his brief tenure as Headmaster of Hogwarts, Severus Snape must perform an act of sex magic with Minerva McGonagall in order to renew the strong protections on the school.
Characters
Severus Snape
Minerva McGonagall
Story