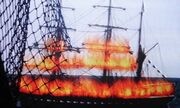 Ethan Lloyd and the Phantom Ship
is a novel by Eustace_Scrubb. It follows
Ethan Lloyd and the Talisman of Table Mountain
, the first book in the Kaaterskill Chronicles. It is followed by the sequel,
Ethan Lloyd and the Year of the Refugees
.
During the summer after his first year at Kaaterskill Academy of Magic, 12-year old Ethan Lloyd is troubled by a mysterious dream, a vaporous visitor and an annoying young neighbor. Back at Kaaterskill, the portents are even less promising and Ethan finds himself at the center of strange events that threaten the school's very existence.
Locations
Characters
Protagonists
Antagonists
Series
Kaaterskill Chronicles (aka Ethan Lloyd Stories)
==
==
Ad blocker interference detected!
Wikia is a free-to-use site that makes money from advertising. We have a modified experience for viewers using ad blockers

Wikia is not accessible if you've made further modifications. Remove the custom ad blocker rule(s) and the page will load as expected.