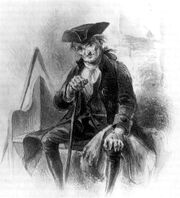 Diedrich Knickerbocker
(ca. 1720-1848) was a Dutch-American wizard and author popular with both Muggle and Magical readers. He was best known in the non-magical world for his massive tome,
A History of New-York from the Beginning of the World to the End of the Dutch Dynasty
(1809). He allowed the Muggle writer
Washington Irving
to pass off the
History
as his own work and to portray Knickerbocker as a fictional character. Knickerbocker wrote a number of books for magical audiences.
Tales of the North River
(1791) proved most enduring; its fantastic stories of the adventures of wizards and witches in the Dutch colonial regime is still read by many wizarding parents to their children.
Appears in