THIS IS A WORK IN PROCESS. IT WILL CONTINUE TO BE UNFINISHED UNTIL THE STORIES ARE COMPLETED.
This article, Anyssa (WR), is a page created by WildloughRhulain. Please refrain from any unauthorized edits other than grammar checking or spell-checking. If you would like to use this article in any way, please ask here first.

Anyssa was a white shorthaired Kneazle crossbreed with emerald eyes, the familiar of Madison Marie Andrews. She was extremely protective of her witch as a kitten. Her father was a feral kneazle, her mother was a cat named Lina.
Adoption
Madison found a skinny little kitten lost in Diagon Alley, her fur was so dirty at first she didn't know what color she was. After giving the kitten a bath, she was surprised to find out she was white.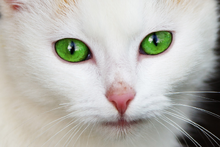 Ad blocker interference detected!
Wikia is a free-to-use site that makes money from advertising. We have a modified experience for viewers using ad blockers

Wikia is not accessible if you've made further modifications. Remove the custom ad blocker rule(s) and the page will load as expected.